Cari amici, è tempo di Natale anche nelle Filippine. Nel mio Paese già dal 1 settembre, la gente comincia a cantare le canzoni natalizie. Il conto alla rovescia ufficiale inizia 100 giorni prima del Natale. Le case vengono abbellite con decorazioni, ghirlande e in particolare con le lanterne di luce. Nella mia lingua si chiamano "parol". Queste lanterne sono appese di fronte alle case. Le più tradizionali sono variopinte, a forma di stella, fatte a mano con bamboo e fogli di carta.
Parol is our famous Filipino Christmas lantern. A parol is an ornamental, it is traditionally made up of bamboo sticks which are covered by coloured pieces of either Japanese paper or crepe paper and comes in various sizes and shapes. The most common form is a five-pointed star with two decoratives "tails".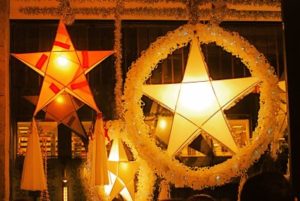 Patterns of the parol evolved from the five-pointed paper star lantern originally crafted in 1908 by an artisan named Francísco Estanislao. His creation was made of bamboo strips covered with papél de japón (Japanese paper), illuminated by a candle or kalburo (carbide). This kind of lantern was used by barrio folk to light their paths during the ritual yuletide dawn Masses called Misa de Gallo, as electricity was yet unavailable at the time in many rural areas.
The original stellate design of the parol remains common in the Philippines and considered distinct for Filipinos. The traditional craft of lantern-making is usually taught to schoolchildren around Christmastime, but actual manufacture is now primarily done in the barrios and the poblacions and is rarely done in urban areas. A notable exception is Las Piñas, a city in Metro Manila, which has the largest parol-making industry in the Philippines, and San Fernando, Pampanga, where a lot of parols also originate.
The parol has become an iconic symbol of the Filipino Christmas and nowadays, the materials range from plastic, shells, glass, beads, foil, feathers, hemp, leaves, seeds, soft drink straws, wood and even metal. They usually come in various sizes, from small, tinsel and foil lanterns to gigantic ones that are electrically lit at night, and may have one, three or more tails aside from the ubiquitous two. Some have a surrounding "halo," and the number of points on the star usually ranges from four to around ten (however, higher numbers exist). As for stellate patterns, more complex shapes that are seen are the rose, the bromeliad, the snowflake and the sea urchin.
Other designs aside from the common stellate pattern include that of angels, huge flowers, Santa Claus's face, reindeer, happy faces, and Christmas trees, among other Western holiday symbols.
Recently, innovations from Pampanga include production of lanterns with electronic lights that can be programmed to produce a dancing effect, as is the use of LED rope lights, known as "flexilight" lanterns.
Many communities, such as villages, schools, and groups hold competitions to see who can make the best parol.[6] One such event is the annual Giant Lantern Festival in Pampanga, which attracts various craftsmen from across the archipelago. The competition revolves around the illumination and performances of giant parol that can reach up to 40 feet (12 m) in breadth. These giant lanterns are programmed to "dance" to the accompaniment of a brass band.
The design of the parol evokes the Star of Bethlehem that guided the Three Kings to the manger. It also symbolizes the victory of light over darkness and the Filipinos' hope and goodwill during the Christmas season.
It's more fun in the Philippines