Adobo (from Spanish adobar: "marinade," "sauce" or "seasoning") is a popular dish and cooking process in Philippine cuisine that involves meat, seafood, or vegetables marinated in vinegar, soy sauce, and garlic, which is browned in oil, and simmered in the marinade. It has sometimes been considered as the official national dish in the Philippines.
Typically, pork or chicken, or a combination of both, is slowly cooked in vinegar, crushed garlic, bay leaves, black peppercorns, and soy sauce. It is served with white rice. It was traditionally cooked in small clay pots (palayok or kulon); but in modern times, metal pots or woks (kawali) are used instead.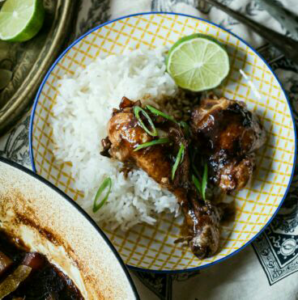 There are numerous variants of the adobo recipe in the Philippines. The most basic ingredient of adobo is vinegar, which is usually coconut vinegar, rice vinegar, or cane vinegar (although sometimes white wine or cider vinegar can also be used).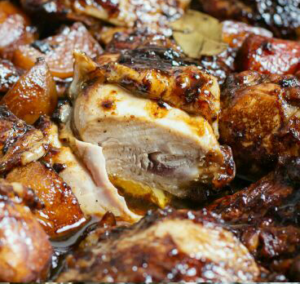 Adobo has been called the quintessential Philippine stew, served with white rice both at daily meals and at feast. It is commonly packed for Filipino mountaineers and travelers because it keeps well without refrigeration. Its relatively long shelf-life is due to one of its primary ingredients, vinegar, which inhibits the growth of bacteria.