Cari amici, oggi voglio parlarvi delle cascate Pagsanjan, nella provincia filippina di Laguna. Sono delle vere e proprie piscine naturali che attirano turisti da ogni parte del mondo. Un tempo le cascate non esistevano, ma c'era un altopiano bagnato dai fiumi. Vivevano qui due anziani fratelli. Una grave siccità inaridì il terreno, portando la morte. Quando il fratello più debole morì di sete, l'altro fratello, rabbioso, scagliò il suo bastone verso le rocce e all'improvviso, l'acqua cominciò a fluire. Ecco il miracolo delle cascate Pagsanjan!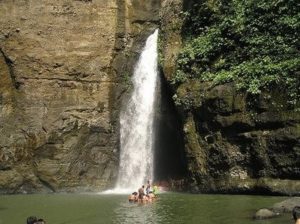 Pagsanjan Falls is one of the most famous waterfalls in the Philippines. Located in Cavinti in the province of Laguna and the falls indigeneous name is Magdapio Falls. It is one of the major tourist attractions of the region. The three-drop waterfall is reached by a river trip on dugout canoe, known locally as Shooting the rapids, originating from the municipality of Pagsanjan. The falls can also be reached from the top by a short hike from Cavinti. The boat ride has been an attraction since the Spanish Colonial Era with the oldest written account in 1894. The town of Pagsanjan lies at the confluence of two rivers, the Balanac River and the Bumbungan River (also known as the Pagsanjuan River).
It takes 2 hours and 30 mins drive from Manila. Pagsanjan, Laguna is the jump-off point to Pagsanjan Falls. You may rent a banca or small boat to take you to the falls or "shoot the rapids."
Skilled and accredited boatmen will take you on a scenic boat ride at Magdapio River in order to reach the main falls, the famous Pagsanjan Falls. They used to be wooden bancas, but nowadays, the boats are made of fiberglass. On the way, you will be treated to the sight of other minor falls (approximately 20 of them), lush vegetation, and natural rock formations. Some say that monkeys occassionally appear and they throw branches or rocks to people, so you better wear a helmet just in case. Once you reach the main falls, you can take a raft ride through the falls and get a natural "back massage." You can also explore the Devil's Cave behind the falls, famous for its reverberating echoes. For the raft ride. The highlight of this trip is the rapid descent downstream or what is known as "shooting the rapids'". Be prepared for the thrill of a lifetime as the expert boatmen maneuver the boat skillfully through turbulent waters. It is interesting to know that a boatman is required to undergo a rigid six-month training in order to acquire a license/accreditation for guiding tourists on the ride to the falls.
Some tourists recommend visiting Pagsanjan Falls during the rainy season for a more exciting experience – the rapids are more turbulent at this time.
It's more fun in the Philippines.