Cari amici oggi vi porto nella cittadina di San Carlos, nel cuore dell'arcipelago filippino, che ospita il 5 novembre di ogni anno il Pintaflores Festival, un inno di colore , arte e natura.
This festival is marked by a street dancing involving the pintados or dancers with tattoos or flowers on their body.
Pintaflores festival is an annual event that is held in the beautiful city of San Carlos, in Negros Occidental. The festival is marked every 5th of November.
The festival's name is unique, one that piques the interest of many tourist. This name is a derivation of the Spanish word 'pinta' which loosely translates to tattoos, and 'flores' which means flowers. This festival, in essence, is all about a fusion of arts and nature, making for a very interesting theme.
The storyline behind Pintaflores revolves around the adversity and victory of a princess who took the challenge to go to unexplored lands. The legend tells that Princess Nabingka who hailed from Cebu City, chose to take the journey from the city to a close island alongside members of her royal fraternity. The region was named after the princess, and today known as San Carlos City.
After the princess settled on the island, she suffered from a disease that necessitate quick action. The locals took to planting flower beds in the belief that this would heal the princess, but the weather had other plans and the flowers did not blossom. This led to the use of floral tattoos for the princess' healing, a tradition that stands strong today.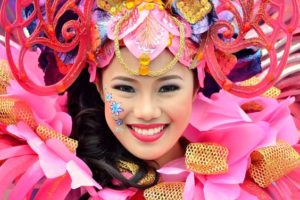 Visitors attending the Pintaflores Festival should look out for the intricate floral tattoos of the dancers as they make their way down the streets. Such an amazing festival not only gives a glimpse into the rich cultural heritage within the city, it is also a popular tourist attraction.
It's More Fun in the Philippines.