Cari amici, oggi vi porto in un posto incantato: lì dove scorre il Duba, un fiume sotterraneo, tra grotte naturali e acque blu: siamo a Baggao, nella provincia di Cagayan, ovviamente nelle Filippine.
Che bello sarebbe visitarla insieme alla nostra community dei Segreti di Matilde!
Duba Underground River and Cave is located in San Miguel, Baggao, Cagayan Province, Philippines. Baggao is gifted with natural aesthetically pristine and beautiful sceneries where horizons of water, rocks, rare species of plants and untamed animals abound. The lush of rolling hills and mountains covered with thick forest vegetation is evident of truly awesome and breathtaking gift of Mother Nature. Baggao is located 62 kilometers north of Tuguegarao City and approximately 517 kilometers north of Metro Manila.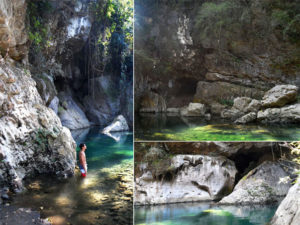 The Duba underground river and cave with a crystals clear water that is a perfect place for swimming and for boating adventure. After an invigorating dip in the water, exploring the cave and feel the self-revealing ambiance of the icicle formed stalactites and the dripping stalagmites penetrated by the rays of the sun over a peeping cove. At dusk, the awesome "circadian flight" of bats in various formation is the most awaited part of the adventure.
It's more fun in the Philippines.